If a stock records massive trading volumes and then ends up recording significant single-day gains, then it may be a time for investors to consider taking a much closer look at it. One of the stocks that was in major focus among investors on Wednesday was Houston Natural Resources Corporation (OTC:HNRC).
Following a key announcement from the company yesterday, the Houston Natural Resources Corporation stock ended the day with gains of as much as 50% on a massive volume of 10X its average volume. In addition to that, it was one of the most actively traded stocks yesterday as the trading volumes went up as much as tenfold amidst heavy interest.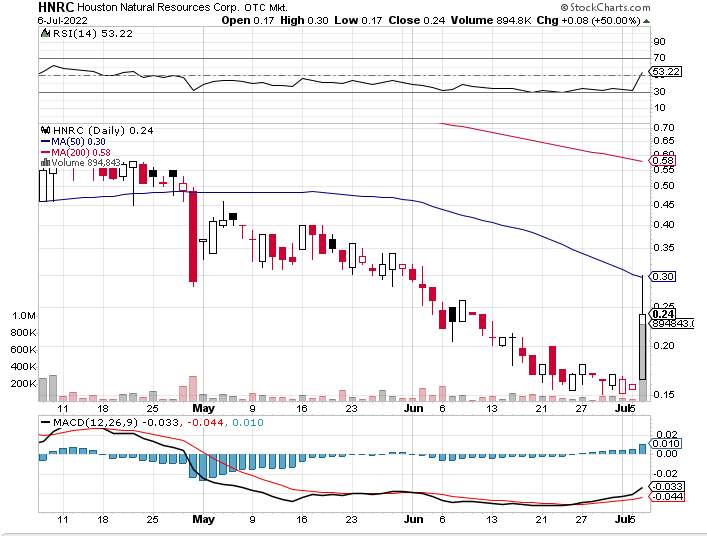 The company announced yesterday that it had put plans in place to spin off its non-energy assets into a fully owned subsidiary unit. The subsidiary is going to be named Worldwide Diversified Holdings Inc and on top of that, the company is also going to dividend them to the existing shareholders.
It was announced yesterday that back on June 30, 2022, the member of the board at Houston Natural Resources Corporation had given their approval for transferring the non-energy investment of the company worth $53,307,324 in lieu of as many as 10,661,465 common shares in the new entity Worldwide Diversified Holdings.
The shares had been valued at $5 each. It should be noted that Houston Natural Resources Corporation had also received approval from stockholders for the transfer. The stockholders had also provided their approval for the dividends. The new entity already possesses audited statements and it is expected to go for a listing later this year.
The record date for the dividend is going to be announced at some point in the third fiscal quarter. At this point in time, it may be a good idea for investors to keep a close eye on the Houston Natural Resources Corporation stock.