The food products industry is undergoing a revolution as we speak and it may be quite important for investors to start looking into companies that may be involved in interesting things in the sector. One of the companies which may be worth looking into at this point in time is Nate's Food Co Inc (OTCMKTS:NHMD).
Trading Data
On Tuesday, NHMD stock went up 6.67% to $0.0016 with more than 4.56 million shares, compared to a volume of 3.85 million shares. The stock moved within a range of $0.0016 – 0.0019 after opening trade at $0.0018.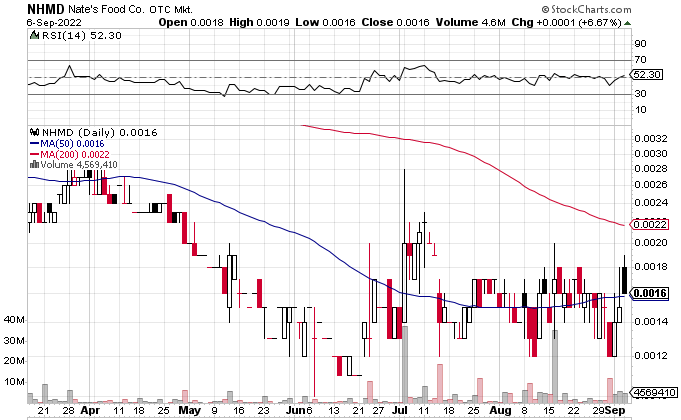 The company is involved in the creation of unique food brands worth millions. The most popular product from the company is the Homemade Pancake and Waffle Batter, which is also the only pancake batter product that is delivered through aerosol. In addition to that, Nate's Food Co is also known for a vast array of Meatless Products. The pancake batter product generates as much as $30 million in revenue, while the meatless products bring in $50 million.
As one can see, the company has managed to emerge as a food products outfit that knows what it is doing and consistently comes up with products that end up being popular. With that in mind, it is maybe a good idea for investors to take a look at the latest flagship product which has been brought to the market by Nate's Food Market. The product is known as Sh'mallow and in essence, it is a marshmallow product that is sold in an aerosol can.
The product can then be spread on any beverage and dessert in the form of a topping. The company claims that it is the form of marshmallow product that is unique and could well be the sort of product that had been in the imaginations of many consumers.
More importantly, Nate's Food Co has also taken care of the distribution of the product. Sh'mallow is already available in most grocery stores, coffee shops, and ice cream shops at this point in time.
Technical Data
NHMD stock is trading above the 20-Day and 50-Day Moving averages of $0.0015 and $0.0016 respectively. However, the stock is trading below the 200-Day moving average of $0.0022.