There may not have been much news with regards to CECORS Inc/Psykey, Inc. (OTC:CEOS) last week but last Friday the company's stock had been in major focus among investors and it is going to be interesting to see if the pattern continues this week. Last Friday, the stock recorded strong trading volumes and ended up with gains of as much as 26.18%.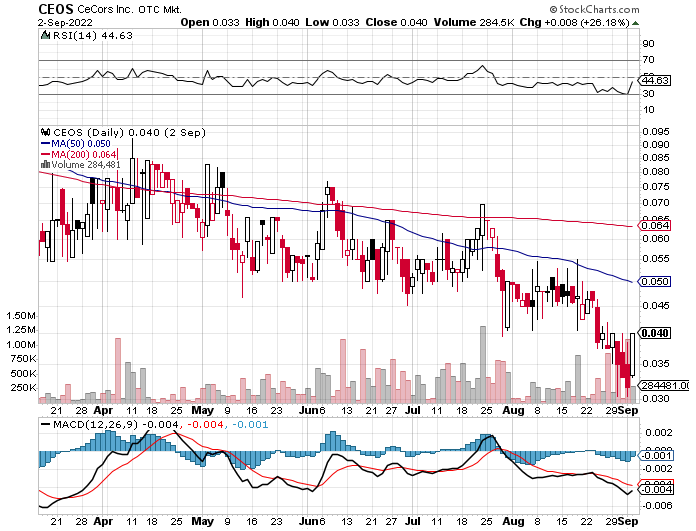 Trading Data
On Friday, CEOS stock soared 26.18% to $0.0400 with more than 284K shares traded, compared to a volume of 394K shares. The stock moved within a range of $0.0330 – 0.0400 after opening trading at $0.0334.
Hence, even though there has been no news, it may well be a good move to consider taking a closer look at the company and its business. As it happens, the company provided a corporate update back on August 22 and some of the highlights from that may provide a clearer picture.
In the press release, CECORS noted that the 2022 fiscal year had been a strong one for the company since it had been able to execute its business well after having completed the acquisition of PsyKey last year.
PsyKey seems to be the cornerstone of the company's growth at this point in time. The company is now a fully owned subsidiary unit of CECORS and is involved in the fast-growing wellness industry. It is involved in providing solutions that could lead to healing of the soul, mind, and body. PsyKey is specifically involved in the commercialization and development of products made from mycology-based ingredients.
In the first quarter of the 2022 fiscal year, PsyKey had been successful in launching its very first product. It was PsyKey Functional Mushroom Infused Coffees and it was presented in as many as four distinct formulations. The product had attracted rave reviews right from the time of its launch and hence, bulk orders for the product had also been placed. CECORS expects revenues from PsyKey to be boosted considerably by the time the third quarter comes along.
Technical Data
CEOS stock is trading below the 20-Day and 50-Day Moving averages of $0.0413 and $0.0492 respectively. Moreover, the stock is trading above the 200-Day moving average of $0.0634. The company has a total market capitalization of $448K.